I don't know about you, but I know the Super Bowl usually means goodies!! I don't care to watch the game at all, BUT I sure do like to watch the commercials, watch Matt scream at the T.V., and eat something yummy! Matt has ALL of these "bad food choices" in mind, BUT I am really thinking of something different.... I think I want to try and make a mini-healthy spread for us! It'll just be us two, since it's a "school-night," we're teachers, and we live to far from our families!! Who knows, maybe his dad will join us!! :) :) Team Beachbody has the BEST RECIPES EVER!!! <3 <3 <3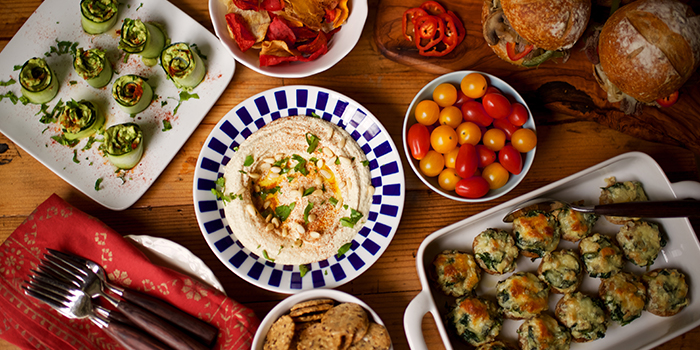 Check out these AMAZING recipes!! I'll share some of my favorites with you guys, I CAN'T decide which ones I want to make!! HELP ME!!!!!
Buffalo Chicken Tenders with Blue Cheese Dip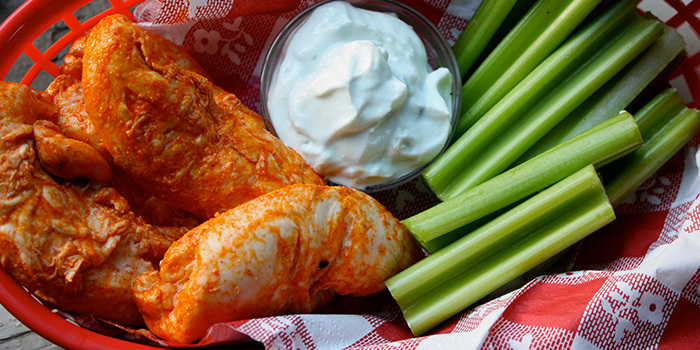 These tangy, spicy chicken tenders dipped in creamy blue cheese sauce are delicious enough to make you forget they're only 158 calories per serving.
Total Time: 50 min.
Prep Time: 5 min.
Cooking Time: 15 min.
Yield: 4 servings
Ingredients:
4 Tbsp. hot pepper sauce (like Frank's®), divided use
2 Tbsp. white vinegar
1 tsp. garlic powder
1 tsp. paprika
1 dash cayenne pepper (to taste; optional)
1 lb. raw chicken tenders
¼ cup nonfat plain yogurt
1 Tbsp. crumbled blue cheese
4 medium celery stalks, cut into sticks
Preparation:
1. Combine 1 Tbsp. hot sauce, vinegar, garlic powder, paprika, and cayenne in a small bowl; mix well.
2. Add chicken; toss to coat. Marinate, covered, in refrigerator for 30 minutes.
3. Preheat oven to 375° F.
4. Place chicken in a baking dish. Discard any remaining marinade. Bake for 12 to 15 minutes, or until chicken is no longer pink in the middle.
5. Combine yogurt and cheese in a small bowl; mix well. Set aside.
6. Combine chicken and remaining 3 Tbsp. hot sauce in a large bowl; toss gently to blend.
7. Serve chicken with dip and celery.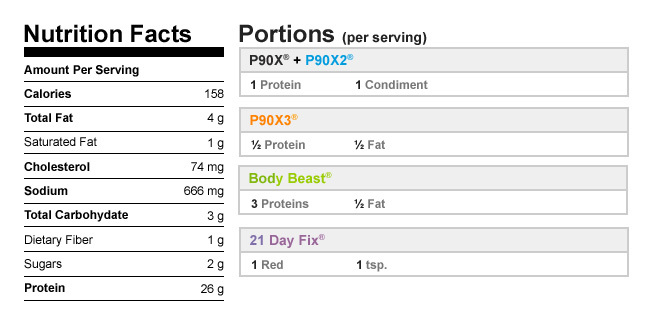 Teriyaki Salmon Bites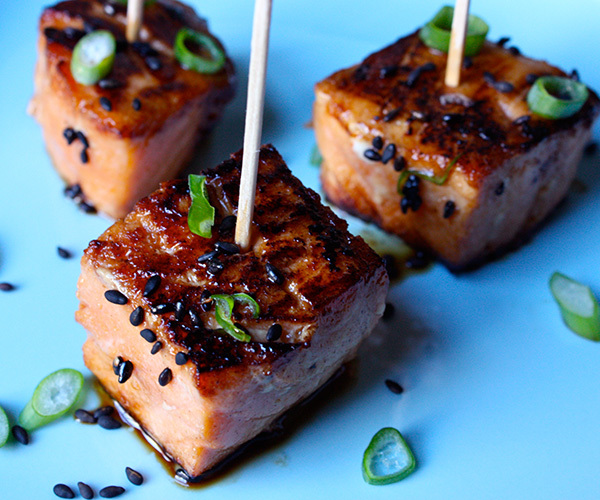 These tasty salmon appetizers will disappear quickly at party, or double the serving and have with steamed vegetables for a delicious lunch or dinner.
Total Time: 1 hr. 15 min.
Prep Time: 10 min.
Cooking Time: 5 min.
Yield: 6 servings
Ingredients:
¼ cup reduced sodium soy sauce
2 Tbsp. water
1 thin slice fresh ginger, finely chopped
1 clove garlic, finely chopped
1 Tbsp. raw honey
1 lb. raw salmon, cut into 1-inch cubes
1 Tbsp. coconut oil
1 tsp. sesame seeds
1 green onion, thinly sliced (for garnish; optional)
Preparation:
1. Combine soy sauce, water, ginger, garlic, and honey in a medium bowl; whisk to blend.
2. Add salmon; toss gently to coat. Refrigerate, covered, for at least 1 hour.
3. Heat oil in a medium saucepan over medium heat.
4. Place salmon in an even layer in saucepan; cook for 2 minutes, turn each salmon cube, cook for an additional 1 to 2 minutes, or until salmon flakes easily when tested with a fork.
5. Place salmon on a serving plate. Sprinkle with sesame seeds and green onion (if desired). Place a toothpick in each piece of salmon.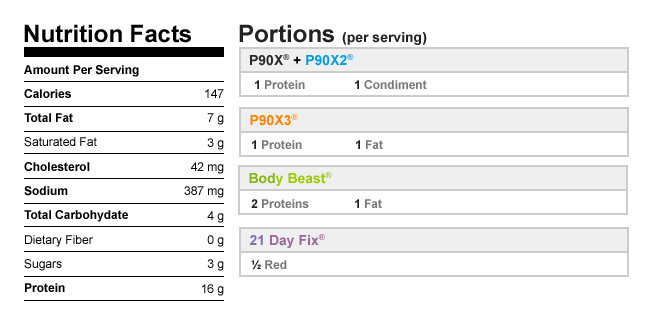 Grilled Veggie Quesadilla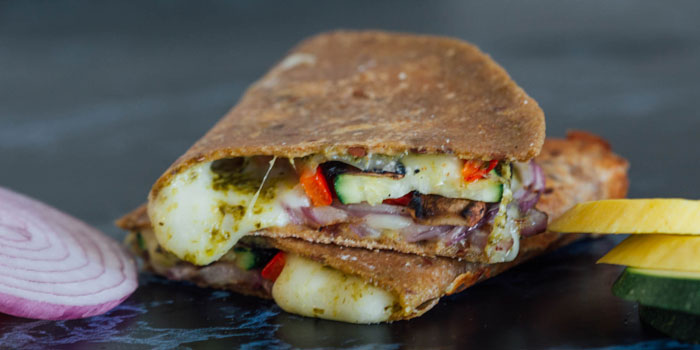 Craving cheese, but don't want to wreck your diet? Bursting with a rainbow of vegetables and oozing with melted cheese, this roasted veggie quesadilla is just the ticket.
Total Time: 30 min.
Prep Time: 15 min.
Cooking Time: 15 min.
Yield: 4 servings
Ingredients:
½ medium red bell pepper, stem and seeds removed and discarded, cut into four pieces
1 medium Portobello mushroom, cut into ½-inch slices
½ medium onion, cut into ½-inch slices
1 medium zucchini, sliced diagonally into ¼-inch slices
1 medium summer squash, sliced diagonally into ¼-inch slices
2 tsp. olive oil, divided use
4 (8-inch) whole wheat tortillas
4 tsp. prepared pesto sauce
4 Tbsp. mozzarella cheese (2 oz.)
4 Tbsp. soft goat cheese (2 oz.)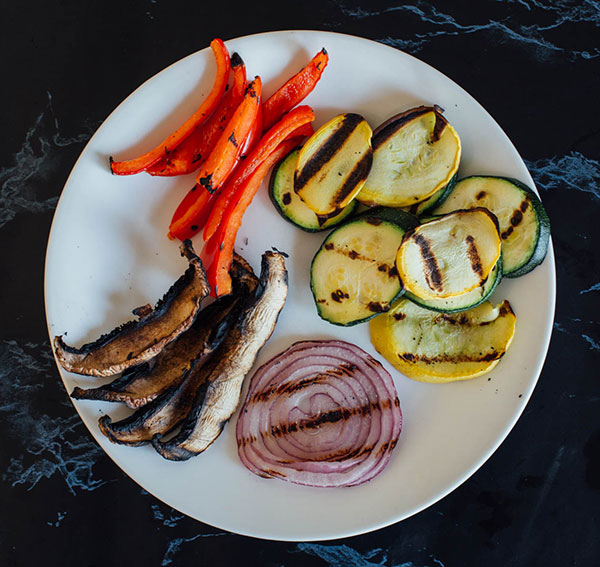 Preparation:
1. Preheat grill or broiler to high.
2. Brush bell pepper, mushroom, onion, zucchini, and summer squash with 1 tsp. oil.
3. Grill or broil vegetables for 3 to 5 minutes on each side, or until tender. Set aside.
4. Heat ½ tsp. oil in large nonstick skillet over medium heat.
5. Place two tortillas in skillet; cook, turning once, for 1 to 2 minutes.
6. Top each tortilla with 1 tsp. pesto sauce, 1 Tbsp. mozzarella cheese, 1 Tbsp. goat cheese, and ¼ of grilled vegetables. Fold tortilla in half; cook, for 4 to 5 minutes, turning once, until cheese is melted and tortilla is golden brown. Repeat with remaining tortillas and ingredients; cook in remaining ½ tsp. oil.