McDonad's has REALLY out done themselves with THIS salad.... NOW... Don't get me wrong, not all salads from all places are THIS BAD, and in the same breathe, the salads people make at home could be JUST AS BAD depending on what you add to it!! Check out the article below that I've snagged from my all time favorite blog through Beachbody, and see for yourself!!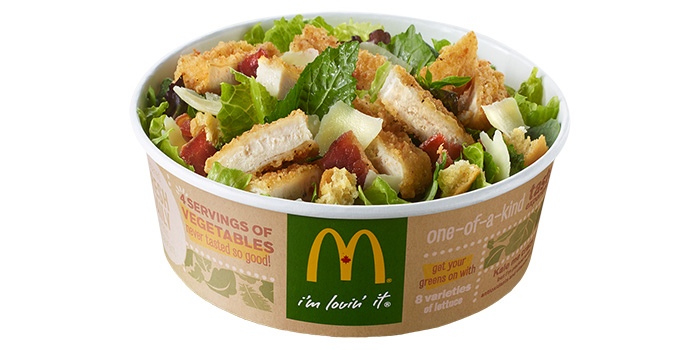 McDonald's recently stepped up their salad game, adding a kale salad to its Canadian menu. When we first got wind of the "Keep Calm, Caesar On" salad, we were curious – after all, it was only a year ago that McD's was throwing shade at kale in a Big Mac commercial.
The official nutritional numbers for the kale salad took us by surprise. Turns out, you might actually be better off sticking with a burger — even the four-patty Double Big Mac.
The kale-based Caesar salad with crispy chicken, clocks in at 520 calories, 31 grams of fat, and 1,140 grams of sodium. And that's before you add the asiago dressing, which adds another 210 calories and 22 grams of fat. The grand total is 730 calories, 53 grams of fat, and 1,400 grams of sodium (about the same as Burger King's Bacon Chicken Ranch Salad or Wendy's Spicy Chicken Caesar Salad). It is also available with grilled chicken, though the website does not include the nutritional information for that option. By comparison, the Double Big Mac — which includes four beef patties — has 680 calories, 38 grams of fat, and 1,340 milligrams of sodium.
The salad is also loaded with vague-sounding ingredients like "flavor," "color," and "microbial enzyme." (Yum?) And the crispy chicken alone contains more than 15 ingredients. "When you're looking at a food product, look at the ingredients," says Denis Faye, MS, Senior Director of Nutrition Content for Beachbody. Ideally, a salad should be made from whole ingredients — such as veggies, beans, seeds, oil, and vinegar.
So why would McDonald's bother adding kale to its menu if they're going to smother it with crispy chicken, cheesy croutons, and bacon? Most likely, they don't want to lose their more health-conscious customers. "There's a lot of pressure on fast food chains to 'health up,'" Faye says. But even though salad might seem like a healthier option than a quadruple cheeseburger, it's really not a game-changer. In fact, the fact that this calorie-bomb takes the form of a salad makes it almost worse. "The salad has some greens," Faye notes, "but if you look at a burger, you have a little lettuce and tomato on there. It's the same thing, but not in sheep's clothing. It's okay to occasionally eat fast food," Faye adds. "But don't fool yourself into thinking this is a healthy meal."
So if you're jonesing for a burger, you might as well order a burger, because the Caesar salad won't satisfy your cravings or save you any calories. If you're trying to take baby steps towards healthier eating habits, a better bet would be to order a cheeseburger with a side garden salad instead of fries, opt for balsamic vinaigrette, and only use half the dressing. That will give you a fast food splurge with a side of actual veggies, and your total caloric intake will only be 390 calories. And best of all, your diet won't have been derailed by a cheat meal in disguise.
Try One of These Instead:
Kale Salad with Chicken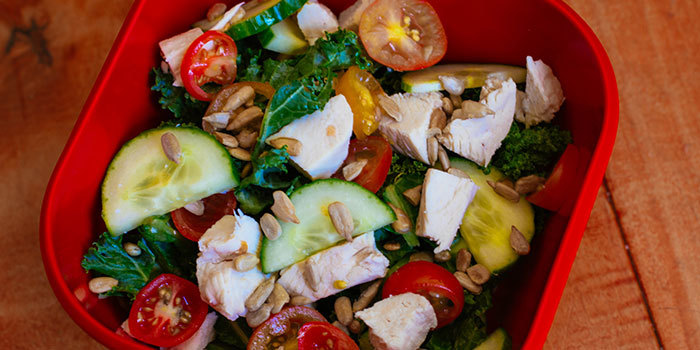 Sometimes, the simplest salads are the best. Like this 21 Day Fix recipe for kale and chicken salad that has only 5 ingredients. Hearty kale is topped with chicken, tomato, and refreshing cucumber slices, and sunflower seeds give it a nutty crunch. It takes just a few minutes to make, so even people with busy schedules can find time to eat this healthy meal. Finish it with a squeeze of lemon or make this yummy lemon caesar dressing.
Tip: Before adding the other ingredients, give your kale a "massage" by rubbing taking the leaves in both hands and rubbing them together. It sound like a strange thing to do, but give it a try. It will make the leaves softer, give it a sweeter taste, and make it easier to digest.
For those following the 21 Day Fix Eating Plan, this salad uses 1 green, 1 red, and 1 orange container.
Total Time: 5 min.
Prep Time: 5 min.
Cooking Time: None
Yield: 1 serving
Ingredients:
1 cup chopped fresh kale
¼ cup chopped tomato
¼ cup sliced cucumber
4 oz. cooked chicken breast, boneless, skinless, sliced
1 Tbsp. raw sunflower seeds
Preparation:
1. Place kale in a medium serving bowl.
2. Top with tomato, cucumber, chicken, and sunflower seeds.
3. Top with your favorite dressing and enjoy!
Healthy Chicken Caesar Salad
Have your croutons and eat them too with this lighter version of Caesar salad that's high in protein but low in calories.
Total Time: 10 min.
Prep Time: 10 min.
Cooking Time: None
Yield: 6 servings
Ingredients:
1 bag of Kale OR 3 romaine lettuce heads, chopped (or torn)
12 oz grilled chicken breast, boneless, skinless, sliced
¾ cup Creamy Lemon Caesar Dressing
¼ cup whole wheat croutons
¼ cup shaved Parmesan cheese (about ¾ oz)
Preparation:
1. Place kale or lettuce and chicken in a large serving bowl.
2. Drizzle with dressing; toss gently to blend.
3. Sprinkle with croutons and cheese.
FOLLOW FOR MORE RECIPES! <3 <3 <3
CLICK BELOW! <3