I'm an Irish Gal~ and I LOVE me some ham and cabbage.. I LOVE a Shamrock Shake~ I love potatoes, and I LOVE MARCH!! Why? It's SO close to spring!! It's a time for fun, laughter, family, friends, and food!!!!!
My Gram and me at the St. Patty's Day Parade in Scranton, PA
I used to go out an galavant during the
super
popular Scranton, PA Parade the weekend before St. Patricks Day, but that's all now a thing of the past!! IT WAS, however, amazing as a child! :) :)
SO is over eating, and stuffing my face with unhealthy garbage!! Here are some HANDS-DOWN-AMAZING St. Patrick's Day recipes to try this week, OR ANY TIME! <3
Mashed Potatoes with Kale (Colcannon)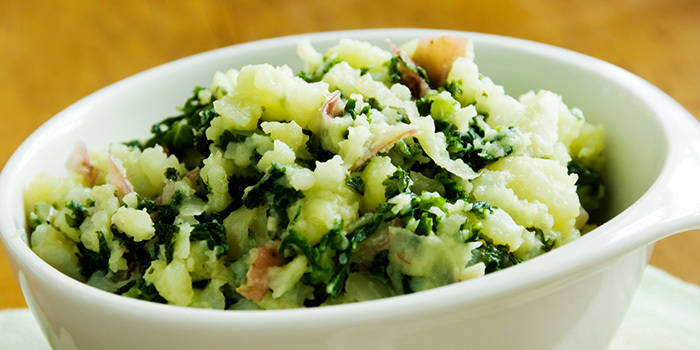 The Beachbody team gave this traditional Irish dish a healthy makeover that doesn't sacrifice flavor!
Yield:
6 servings, about 1 cup each
Ingredients:
¾ cup low-fat milk, warm
3 green onions, chopped
2 lbs. medium russet potatoes, peeled, cut into cubes
Water
½ tsp. sea salt, divided use
1 lb. fresh kale, large ribs removed, torn into large pieces
2 Tbsp. extra-virgin olive oil
Ground black pepper (to taste; optional)
Preparation:
1. Heat milk and green onions in small saucepan over medium heat. Bring to a boil. Turn off heat. Set aside.
2. Place potatoes in medium saucepan. Cover with water. Add ¼ tsp. salt. Bring to a boil over medium-high heat. Reduce heat to medium-low; cook for 15 to 25 minutes, or until tender. Remove from heat.
3. While potatoes are cooking, boil water in steamer or large saucepan over high heat. Reduce heat to medium-high. Place kale in steamer basket; cook for 3 to 4 minutes, or until tender-crisp and bright green. Place in ice water bath to stop cooking process.
4. Drain water from potatoes. Return potatoes to heat. Gradually add milk mixture, mashing potatoes as milk is added; cook over low heat for 1 to 2 minutes. Remove from heat.
5. Drain water from kale; squeeze out excess water. Finely chop kale with a knife or in a food processor.
6. Add kale and oil to potatoes; mix until fluffy.
7. Season with remaining ½ tsp. salt and pepper (if desired).
8. Serve warm.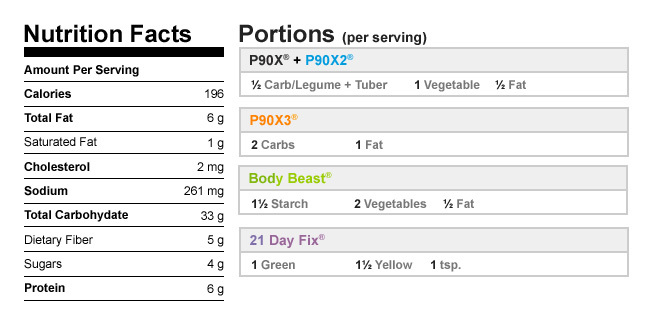 Savory Irish Oats with Turkey Bacon, Cheddar, and Chives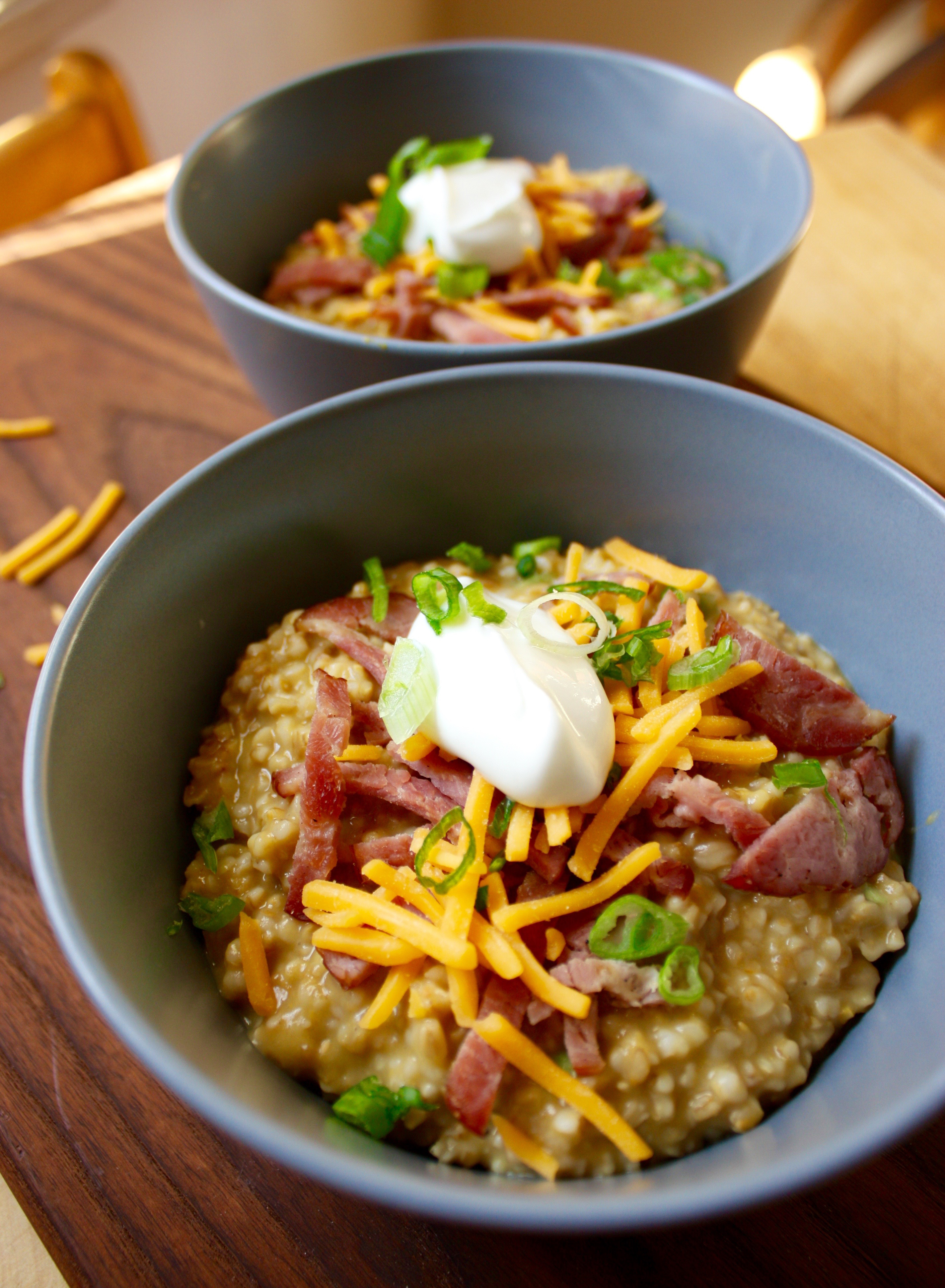 It's time to ditch the notion that oatmeal is only a sweet breakfast to be topped with maple syrup, raisins, or berries. Oatmeal's neutral flavor profile is perfect for savory dishes as well, and leaves lots of room for creativity. Start thinking of oatmeal in the same way you would polenta or grits, which are often topped with braised meats, sautéed mushrooms, or grilled shrimp.
For this savory oatmeal recipe, we riffed on our favorite baked potato toppings. These steel cut Irish oats are cooked with vegetable broth and almond milk, then topped with turkey bacon, sharp cheddar cheese, and sliced green onions. The finishing touch is a dollop of creamy Greek yogurt. Crack some fresh pepper over everything, if you're so inclined, grab a spoon, and dig in.
You see? Eggs aren't the only option for a savory breakfast anymore. Although, a sunny side up or soft boiled egg would make a incredible topper to this breakfast bowl.
Total Time: 45 min.
Prep Time: 15 min.
Cooking Time: 30 min.
Yield: 4 servings
Ingredients:
3 cups low-sodium organic vegetable broth
½ cup unsweetened almond milk
1 cup dry steel-cut oats
1 dash sea salt (or Himalayan salt)
6 slices cooked turkey bacon, chopped
¼ cup shredded sharp cheddar cheese
¼ cup finely chopped fresh chives
¼ cup reduced-fat (2%) plain Greek yogurt
Preparation:
1. Bring broth and almond milk to a boil in medium saucepan over high heat.
2. Add oats and salt. Return to a boil. Reduce heat to low; cook, stirring occasionally, for 25 to 30 minutes. Remove from heat.
3. Add turkey bacon, cheese, and chives; mix well.
4. Evenly divide porridge between four serving bowls. Top each bowl with 1 Tbsp. yogurt; serve immediately.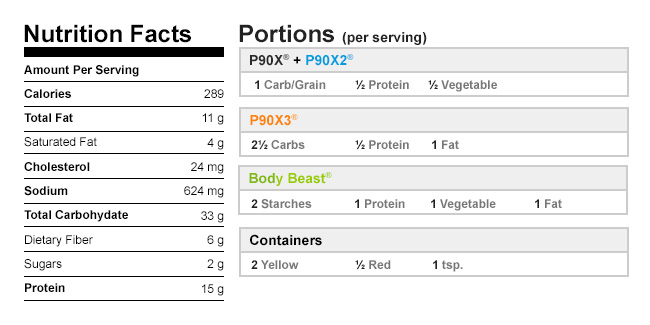 Irish Stew
This delicious Irish stew is very easy to prepare, but it will make you look like a culinary wizard. The result is a rich, savory dish that is satisfying and delicious. Parsnips, leeks and cabbage give it a surprising amount of fiber, and it's has 23 grams of protein per serving.
Cooking Time: 55 min.
Total Time:
1 hr. 10 min.

Yield: 4 servings
Ingredients:
2 tsp. olive oil
12 oz. raw leg of lamb, boneless, fat removed, cut into ¾-inch cubes
2 cups low-sodium organic beef (or vegetable) broth
1 medium onion, diced
3 medium carrots, peeled chopped
2 medium leeks, sliced
2 medium parsnips, sliced
6 cups water
1 bay leaf
1 tsp. dried thyme
½ tsp. sea salt
12 oz. Yukon gold (or Peruvian blue) potatoes, cut into ¾-inch cubes
2 cups coarsely cut cabbage
¼ cup chopped fresh parsley
Preparation:
1. Heat oil in a large saucepan over medium-high heat.
2. Add lamb; cook, stirring frequently, for 3 to 4 minutes, or until browned.
3. Add onion, carrot, leeks, and parsnips; cook, stirring frequently, for 4 to 5 minutes, or until onion is translucent.
4. Add water, bay leaf, thyme, and salt. Bring to a boil. Reduce heat to low; gently boil, covered, for 30 minutes.
5. Add potatoes and cabbage; cook, uncovered, stirring occasionally, for 10 to 15 minutes, or until lamb and potatoes are tender.
6. Remove bay leaf; add parsley.
Braised Cabbage




This simple but flavorful cabbage dish is super-easy to make. All it takes is slicing a head of cabbage, adding broth, and baking. The result is a very tasty and low-calorie side dish to pair with chicken, fish or pork.






Total Time: 1 hr. 30 min.
Prep Time: 5 min.
Cooking Time: 1 hr. 20 min.
Yield: 6 servings
Ingredients:
1 medium head green cabbage, cut in half, core removed, sliced
1 cup low-sodium organic vegetable (or chicken) broth
¼ tsp. sea salt
¼ tsp. ground black pepper
Preparation:
1. Preheat oven to 375° F.
2. Place cabbage in large baking dish; top with broth. Season with salt and pepper.
3. Cover baking dish tightly with foil.
4. Bake for 1 hour, turn cabbage wedges with tongs. Bake for 15 to 20 additional minutes, or until cabbage is tender.
Variation: Sprinkle with 2 Tbsp. Balsamic vinegar after 1 hour of baking. Stir with tongs to distribute vinegar.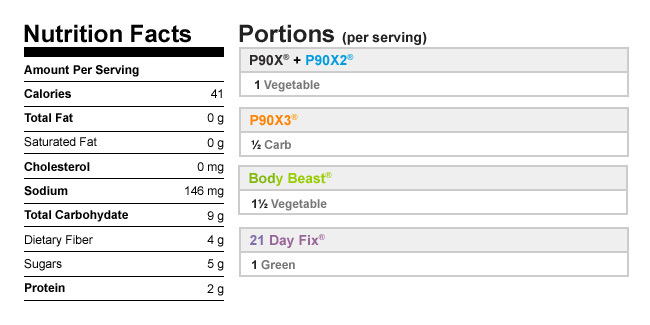 Shamrock Shake!!!!
I'd be lying if I said that I will NOT get a Shamrock Shake before they're out of season.. BUT I've done very good so far just sticking to my own recipe!!! I encourage you to use it too!!! <3 <3 It's SOOOO good!!!! There are MANY "Shakeo Shamrock Shake" recipes out there.. BUT by golly-gee.. I've came up with a WINNER! <3 <3 <3
ENJOY!! ~<3 Amber
Challenge Group/Client Application:
I'm always accepting new clients and challengers! Fill out the following application to get notified everything I submit a new recipe/transformation, to be added to a Challenge Group, or even just get in on a FREE Clean Eating Group that I offer on Facebook! I look forward to hearing from you! <3